QUALITY MANAGEMENT
Stabilization and effective operation
of the quality management system through ISO 9001 certification
Kumho Mitsui was certified in 1998 for ISO 9002 by DET Norske Veritas (DNV), an international ISO certification institute of the United Kingdom, and after that, it was certified for ISO 9001, an integrated certification for quality, environment, and health, by Societe Generale de Surveillance (SGS).
In addition, in 1998, the certificates, which had been restricted to the plants, were extended to HQ through review auditing. ISO 9002 is a quality management system for the production of products, which is
a scheme in which trustworthy institutes are asked to give objective acknowledgement.
After being certified for ISO, the company was acknowledged for its advanced quality and high technology internally and externally. The ISO system has helped the company gain significant effects internally such as the accumulation of knowledge for the systematic operation of plants, efficiency in works due to standardization, saving of costs due to increased productivity, and prevention of nonconforming products.
Certificates
ISO 9000 is an international standard for quality management and quality assurance established by the TC (Technical Committee 176) of the International Organization for Standardization (ISO).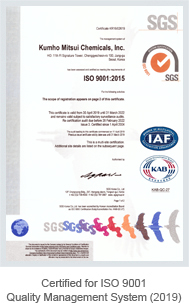 It is a standard for customer-oriented systems that focus on preventive activities for preventing nonconforming products from being produced. It is a minimal requirement for a company.
In addition, it is a system in which a third party evaluates an entire process of a company including its sales, design, purchase, manufacturing, inspection, delivery, and services. ISO 9000 can be divided into ISO 9001, ISO 9002, ISO 9003, and ISO 9004, depending on the type of standard.
Currently, it is a trend that ISO 9000 is required in most countries around the world. When it is necessary for individual governments to procure materials, they prefer to procure from certified suppliers. Accordingly, it is required for companies to prepare themselves for the changing environment domestically and overseas proactively and efficiently. That is why ISO 900 certification is required. Acquiring ISO 9000 certificates would help companies increase the sales revenue from products and services. It is because customer satisfaction and the company's reliability can be improved. The standard also helps maintain quality continuously. It also contributes to saving costs by preventing loss from disposal, reworks, and repair, and saving time by shortening the product development time and the duration of a plant being shut down.